Hey there, long time no blog :/. Sorry for the long hiatus. Over the past year I've had some changes go in in my life, including a career change among them. I have been unable to blog due to sometime as a result of them. That and quite frankly I haven't really been wearing or trying nay new lenses. Well some months back I came across a brand called Desio.
Desio is a cosmetic lens made it Italy, that is not only aimed at changing the wearers eye color, but also a brand that markets their lenses towards both Women and Men. The lenses appear to be opaque printing with the blending of a semi opaque lens. I will be honest, I am a bit on the fence about these. I have stumbled across pics on their Instagram page and took a look at their site to see what they offered.
The company does offer the lenses in a wide range of corrective powers from Plano (+/- 0.00) to +5.00/-17.00. (Side note any lens from +5.00 to -6.00 is available in .35 increments at the regular price, while lenses stronger than -6.00 are available in .50 increments, although appearing to be at the same price range).
The color range is as follows:
Innocent White,Smokey Grey & Icy Blue (Grey/Blue tones)
Creamy Beige, Desert Dream, and Caramel Dream (Brown tones)
Mint Touch & Forest Green (Green tones)
The shade I ordered was Icy Blue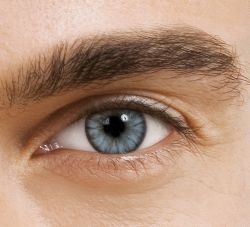 (Stock photo from manufacturer website)
The lens itself appears to be available in some countries around the world at optical shops, as well as stand alone shops. At this point and time they can be ordered directly from the manufacturer (Qualimed) through their website www.DesioLens.com .
I am interested in trying them out an doing a review on them once I receive them. So for the mean time stay tuned :) And happy belated New Years! LOL
**Disclaimer** I am not associated with Qualimed, Desio, DesioLens,com . I have not been paid or compensated for this review/post. Nor am I being provided with the aforementioned lenses. I have purchased them with my own money and any opinions associated with them upon receiving and reviewing them are mine and mine alone.