Well I decided to do a fragrance review after posting something on a forum I'm on. Just a quick review on a few of my fragrances.
Versace Blue Jeans
I would say this is intermediate. It's not as light as I normally prefer my fragrances to be. But it's not overbearing. A decent fragrance for a casual settign/day. It's nice. But not something I'd wear to work, more when running errands or visiting a friend.
CK One Summer
I really love this one! It's citrus yet clean at the same time without a floral undertone. It isn't as light as the other two when first applied, but it's not overbearing either. It's one of those fragrances that smells good when you put it on, but smells even better as the day goes on. I love wearing it pretty much for any occasion! It's a great smell for work, but smells nice when out as well. (And as many of us know, when you're drinking and dancing and having a good time, some fragrances don't smell as fresh as they did when you stepped out of the shower before going out. This is one that does).
Burberry
It's nice. More of a warmer scent. Not light light. Not overbearign in heavyness. More so if you put it on after your shower in the morning the scent tends to still be noticable at the end of the day. It is nice. A more masculine aromatic smell. But I also find it can have a tendancy to cling to what you're wearing. I find it best to put some on straight out of the shower, but wait a few minutes before actually putting your clothes on. Another hint would be if putting on befoe leaving you'll be wearing a jacket (say in the fall/winter) put it on a few minutes before placign your jacket on or you risk it smelling like Burberry for a while.
Nautica Island Voyage
It's a light fragrence great for the summer. It has a citrus yet floral smell while still beign masculine (not girly if that makes any sense). It lasts a decent amount of time. And a little goes a long way. Very clean and light smelling. It's something I've worn to work on numerous occasions. It's longevity is good. But it's not overbearing. unlike some fragrances while it lasts long it doesn't cling. If you place this on it won't cling to your clothes, your jacket, or any friends you're close to (ever hug someone and their perfume or cologne clung to you after interacting with them)
Paris Hilton for Men
I love the way this smells! (as you can probably tell by how damn near gone it is!). It's very light and natural smelling if that makes any sense? It has a nice cool smell with a cucumber undertone. I usually wear it on cooler summer days when I'm relaxing with friends. It smells great but not overbearing. It's one of those fragrances you have to actually be near a person to smell. (I know I would rather someone smell how good I am when next to me rather than when I step in the room). It has decent longevity too. When I put a spray or two on after I get out of the shower it's still there halfway through the day.
Fahrenheit Christian Dior
Okay.... I'm torn over this one. It's strong. Not bad strong or obnosious smelling. But strong. This fragrance packs alot of punch. It truly is one where a little goes a long way. I find it best when applied in a samll increment out of the shower and before applying lotion (to tame soem of hte scent). I find that as the day goes on and it's effect wears off it get's better. Unfortunatly I find after a day working 2 jobs it smells great when I finally get home. One of htose fragrances that smells better and better as it wears off. My only downfall is how I feel. If I smell it for too long I get lightheaded and start to get migraines and occasionally it makes me naseaus(sp??) to the point where I throw up. Def. not something I can wear often even though it's occasionally nice.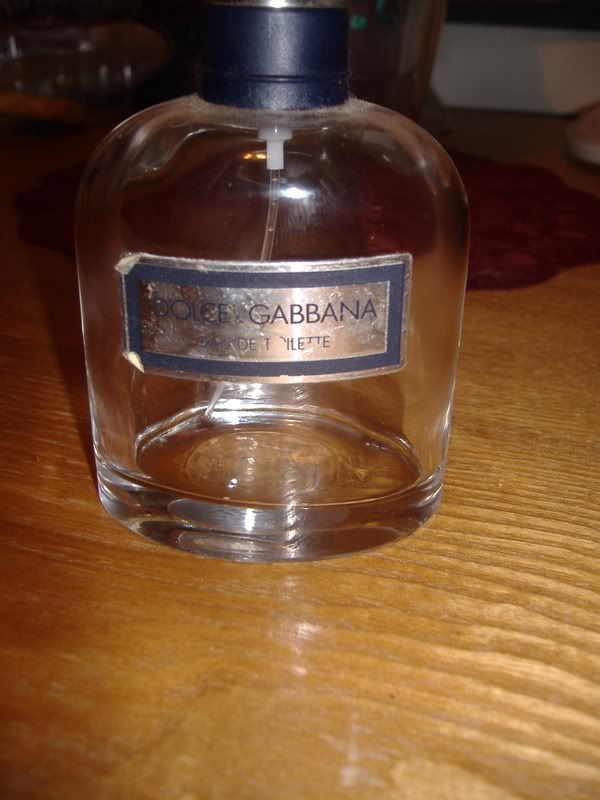 Dolce&Gabbana
I LOVE this fragrance! It's pretty much one of my top 3 I can wear anywhere anytime. As you can tell it's prety much gone. I've got a drop left I'm clinging to until I get a chance to stop into Macy's and grab another one! It's light yet not floral or citrusy. It's def masculine yet more of a brisk clean vs the woodsy/musky alot of mens fragrances tend to be. It has great wear power. Yet it also maintains. It smells just as great at the end of the day as it did when I first applied it in the morning. It's soemthing I put on when I'm not sure what I'm quite in the mood for. It's a great standby for when you wanna smell clean and fresh all day long and know you smell good!
Dolce&Gabbana Light Blue
Like it origional formation I LOVE this versiona s well. It is a lighter more airy version. I also find it has a slightly floral undertone. Normally I would question it. But with this particular fragrance it still maintains a distinct masculine smell. I find it does have great staying power. IUnlike origional Dolce&Gabbana though not only is it lighter but it does get lighter as the day goes on. But despite getting lighter it's more of an airy version of how it smells when first applied. It's also one of those great fragrances. It smells great but it's also one that you have to be near the wearer to actually smell it. I highly recommend it.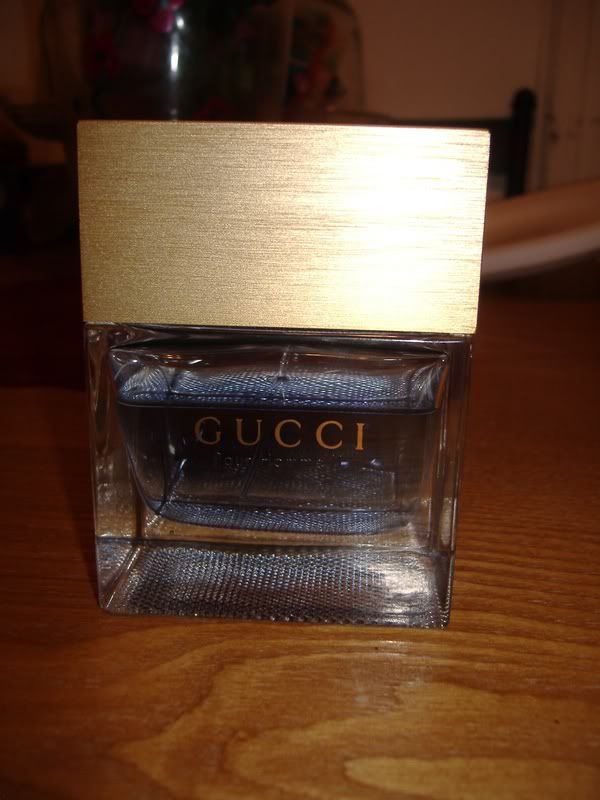 GUCCI
What can I say? I really love how this smells. It's light and airy. However it has stayign power. It does get more airy as the day goes on. But stays true to it's origional aromatic undertones. It's light but has a slight sandlewood undertone with hints of floral aromas here and there. A bit pricey but def. worth it. It's also a fragrance that works well int he workplace because of how clean it is. Yet it can be worn out because of how seductive it the senses feeling at the same time. I would almost say it has a slightly "flirtatious" smell as well.
Well that's it for now. I have plenty of more I'll probably do when I have more time. But I pretty much covered my basics.